What is Event Connecter
Event Connecter makes building a powerful network of connections meaningful and simple.
Here's how it works
Get rolling by answering a few simple questions. It only takes a couple of minutes!
Select if you want to receive new introductions weekly, twice a month, or monthly.
Our proprietary algorithms warmly introduce you to fellow members you should know.
Follow-up with your new introductions on your schedule through our online interface.
Browse, post, or respond to leads, questions, and member news on our Community Billboards.
At its core, Event Connecter is a free and innovative online networking community for our members. Participation is completely voluntary. Our intelligent approach to making connections applies modern practices to tried-and-true networking principles. This creates strategic 1-on-1 introductions which help you generate everything from valuable business leads to cutting edge industry insights.
Benefits
No searching! Algorithms and artificial intelligence bring the right contacts to you.
No awkward ice-breaking! Everyone in our network is looking to make connections.
No timetable! Network at your speed on your schedule wherever you are.
Private! You decide if, when, and what contact information you share with connections.
Efficient! The smartest way to stack your network with meaningful contacts.
Join Now!
Results
Event Connecter uses proprietary algorithms and artificial intelligence to find the best matches between members for networking. We handle the initial introduction and you take it from there at your own pace and interest.
Your result is a stronger, more meaningful, more effective, and more valuable network of relevant contacts without all the endless searching and deluge of content of online networks or the awkward ice-breaking of live networking events.
If you have any more questions or concerns regarding participation, please contact us at team@eventconnecter.com
02. Getting Started
If the idea of being intelligently introduced to fellow Event Connecter members in a one-on-one setting sounds intriguing, then you're definitely in the right place! The goal of this community is to help find and meet the most valuable, mutually beneficial and productive members in our organization. Let's get started...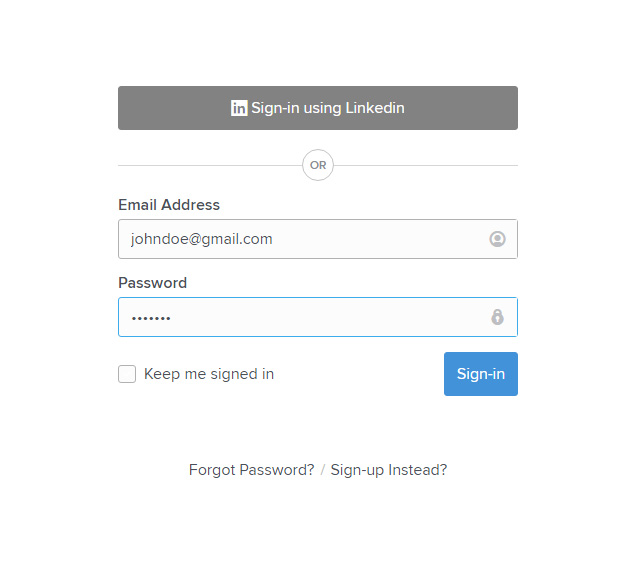 Onboarding & Opting-in
By accepting your email invitation (or joining using the Get Started link above) you will need to onboard. Onboarding is where the Event Connecter community gets to know you a bit better; we need to understand who you are, but also what you need! The onboarding process only takes a few minutes and gives us our first glimpse into your networking needs.
Okay, I've joined, now what?
Fantastic, now that you have completed onboarding, your account is live! You will begin receiving introductions shortly, but in the meantime, you have a choice:
Setup your profile: You can venture into the Event Connecter platform and begin adding information concerning your bio, skills, services and company. You can also explore your Leads Billboard. More on that later!
Or, just wait: You're busy, we get it. For now, just sit back and relax. Your basic networking profile is adequate and introductions are on the way!
03. Introductions
Once you complete the onboarding process, you will start receiving Event Connecter introductions! Event Connecter networking requires NO SEARCHING; our matching algorithm arranges ALL introductions between members.
How do I get matched with other members?
You will have already selected your introduction frequency during onboarding, i.e., once a month, twice a month or once a week. At Event Connecter we do our best to match you with colleagues who share mutually beneficial values. The intent of every introduction is to provide both members with opportunities to forge real business relationships. Here's some of the criteria we use to match members.
Age & Experience: We seek to match peers with complimentary professional context.
Complimentary Skillsets: Both peers should require each other's expertise.
Geographic Scope: Introductions should be located within your designated scope or city.
Custom Questions: We match based on questions designed by our community admins.
Okay, I've been introduced, now what?
Once you receive a new introduction, it's your turn to reach out and get the ball rolling. With each introduction you will receive contact information and the member's summary and company info.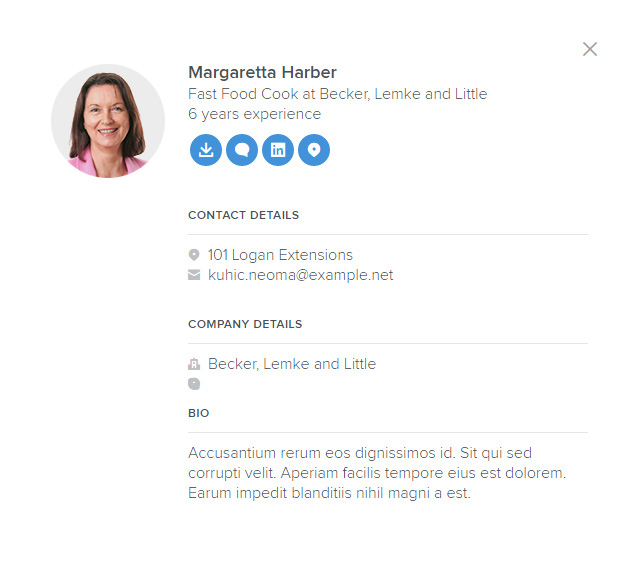 Feedback & notes
From time to time let us know what you think of your introductions. Feedback is one of our most important means for better understanding what types of Event Connecter members you prefer meeting. It's also your opportunity to jot down any notes or important reminders when following up later.
04. The Leads Billboard
In addition to our tailored one-on-one introductions, we offer the Leads Billboard! This is a community wide bulletin board featuring member Needs, Offers, Questions and Updates. ALL members of the Event Connecter can view, message and post to this fantastic biz/dev resource!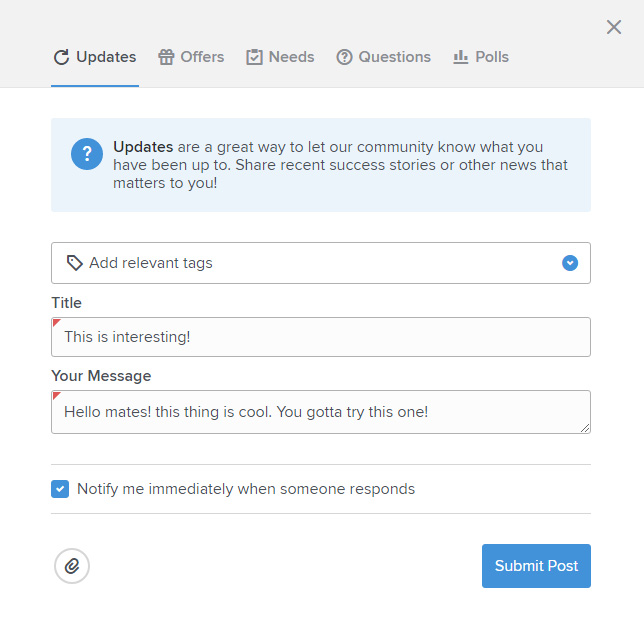 How do I post a Lead?
Posting a new opportunity to the Event Connecter Leads Billboard is easy! Simply follow these steps:
Step 1: On the Dashboard locate the "New Post" button.
Step 2: At the top of the lead pop-up window select the type of Leads you with to post.
Step 3: Follow the instructions for that lead type and attach any images or files.
Step 4: Once satisfied with your lead, click the "Submit Post" button.
Step 5: You should now see your post on the Dashboard. Click the ... button to edit.
How do I respond to a Lead?
Respond to a Lead by clicking the Message button at the bottom of the post you are interested in discussing. This will open the Event Connecter private messenger where you can submit a response to that particular member. Allow 2-3 days for a response before following up.
When responding to a Lead, Event Connecter WILL NOT share personal or professional contact information. It is up to you and the Lead owner to exchange contact information if acceptable. More information on the Leads Billboard can be found under our FAQ section, or by visiting our User Support pages.